StockBagⅡ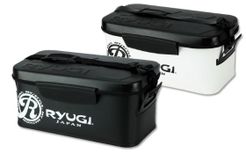 Large-sized functional tackle bag with consideration for various use situation.

Cover with offset structure hardly impregnated by rain. 

Shoulder Belt detachable according to situation.

Adjusting Belt for fixing bag to boat seat pole.

Large-sized magic tape for easily locking lid in instantaneous time.

Multi-holder capable of mounting convenient small articles.

ITEM BAGⅡ(sold separately) fits perfectly.

Easy-to-use sizing for rental boats.
SIZE
Outer dimensions : W540mm×D300mm×H250mm
Inner dimensions : W490mm×D255mm×H230mm