INFINI hobbit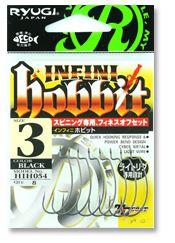 In today,'s tough fields, where one fish value is abnormally high, it's no longer for angler life to miss fish. 
This is built on the assumption of the spinning tackle, light rod and light line. Even with weak force, it has an axial diameter, a  barb, and the hook point position that are brought into the hooking. 
It's not just small. high potential offset hook.
Size (Number per pack) 
8 (8), 6 (8), 4 (8), 3 (8), 2 (8), 1 (8)